PL MFG, Division of Dynamics 360, Inc.
1. Company Background
- In Business since 1997
- 15 employees
- 18,000 (+) sq. ft. air-conditioned manufacturing space,
- 10,000 (+) sq. ft. additional storage space
2. Business Type
- Small corporation
- Woman owned
- Located in a designated Empowerment Zone (EZ) - ISO 9001-2000 Registered (Certification #02-223)
3. Key Machithery/Equipment n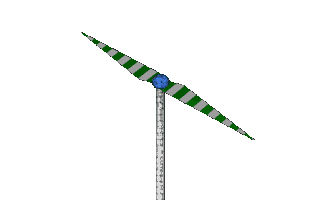 - Full 4 axis machining centers
- Full 3-axis turning centers with integrated sub-spindles
- Automated, bar-feeding turning centers
- Horizontal, multi-pallet machining centers
- 40 and 50-taper vertical machining
- Localized, induction heating
- Inspection/calibration laboratory
4. Existing Products
We manufacture custom components for the following industries/products:
- Automotive Industry
- Construction Industry
- Hand Tools
- Fasteners
- Precision Positioning Equipment
- Aerospace Industry
- Fluid Power Industry
- Food Service Industry - Agricultural Industry
- Military
- Wind Energy Industry
5. Total Experience of Employees
- We have a combined total of over 135 years experience
6. Quality System/Approvals/Training Program
- We are ISO 9001-2000 registered
- We are an approved supplier to Danaher Tool Corporation
- We have North Dakota's only active, formal Apprenticeship-Training Program for machinists, governed by the Bureau of Labor
CNC Turning Machines
P. L. Manufacturing in Cooperstown, ND has a large variety of CNC machines available to handle any precision machining need you might have. We also have our own inspection laboratory for performing calibrations traceable to NIST. Please take the time to check out our detailed list below. We have also provided in a downloadable PDF format for your convenience.
HAAS model HL-1:
| | | | |
| --- | --- | --- | --- |
| Chucking Lathe | 20 H.P. Spindle | 8" Power Chuck | 10 Station Tool Turret |
HAAS model HL-2:
Chucking Lathe
10" (Diam.) x 20" Capacity

20 H.P. spindledrive
10 Station Tool Turret

Fully Programmable Tailstock




HAAS model SL-30:
Chucking/Bar-Working Lathe
14.5" (Diam.) x 34" Chucking Capacity


2 1/2" Diam. Max Bar-feeding Capacity
30 H.P. spindle drive

12 Station Tool Turret
Fully Programmable Tailstock

Automatic Parts Catcher

Daewoo model Lynx-A:
Chucking/Bar-Working Lathe

11" (Diam.) x 12.7" Chucking Capacity
1 3/4" Diam. Max Bar-feeding Capacity

10 H.P. spindle drive 12
Station Tool Turret
Programmable Tailstock

Automatic Parts Catcher
12' Hydroturn Barfeeder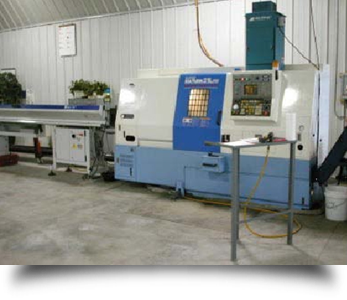 Daewoo model Puma 200:
Chucking Lathe
15 H.P. Spindle

8" Power Chuck
10 Station Tool Turret

Tailstock





Kia model 21LMS:
Chucking/Bar-working Lathe
Sub-spindle

4th Axis Milling 20 H.P. main spindle drive
5 H.P. sub-spindle drive
12 Station ToolTurret

Parts Catcher
Iemca- Boss 547 12'
mag. bar-feeder





Daewoo model Puma 6S:
Chucking/Bar-working Lathe
15 H.P. Spindle

10 Station Tool Turret Tailstock

12' Hydrostatic Bar-Feeder




Miyano:
Bar-working lathe
with live
milling 7.5 hp



12' Hydrostatic Bar feeder
Sub Turret
Live tooling
1 1/16" bar capacity


Screw Machines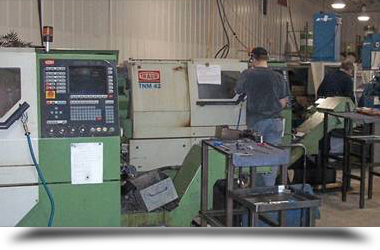 | | | | |
| --- | --- | --- | --- |
| (2) 1 5/8" Traub TNM42 | Single-spindle CNC | | |
| | | | |
| --- | --- | --- | --- |
| Screw Machine | 12' Magazine Bar Feeder | (2) Back-Working | (2) Pick-off Spindle |
CNC Milling Machines
Daewoo Model DMV-400:
| | | | |
| --- | --- | --- | --- |
| Pallet-changing VMC | 22" x 22" x 16" (x,y,z) travels | 10,000-RPM Max spindle speed | |
HAAS Model VF-4APC:
Pallet-changing VMC
50" x 20" x 25" (x,y,z) travels

20 H.P. Geared spindle drive
7500-RPM Max spindle speed

Full-4th Axis Machining
Coolant-through Spindle

Pallet Changer
Part-Probing System

HAAS Model VF-0E:
Vertical Machining Center
30" x 16" x 20" (x,y,z) travels

20 H.P. spindle drive
10,000-RPM Max spindle speed


Full-4th Axis Machining



Kitamura Mycenter 6:
| | | | |
| --- | --- | --- | --- |
| Vertical Machining Center | 50" x 25" x 25" (x,y,z) travels | 50-Taper, 3-stage geared spindle | Full-4th Axis Machining capable |
Daewoo Model H50-S:
| | | | |
| --- | --- | --- | --- |
| Pallet-changing HMC | 25" x 25" x 25" (x,y,z) travels | 50-Taper, 3-stage geared spindle | |
Mitsubishi Model MH5B:
Pallet-changing HMC
Cat 50 Taper Integrated Spindle
25" x 25" x 25" (x,y,z) travels


30 H.P. Spindle drive
12000-RPM Max spindle speed
High Pressure TSC

1,575 IPM Rapids



Mitsubishi Model MH4B:
Pallet-changing HMC
Cat 40 Taper Integrated Spindle
25" x 22" x 25" (x,y,z) travels


30 H.P. Spindle Drive
12000-RPM Max spindle speed
High Pressure TSC

1,575 IPM Rapids



CNC Machining Capabilities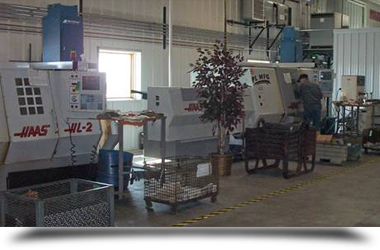 Milling Capacities (20 H.P.)
Horizontal: 31" x 26"
+ 4th Axis
Vertical: 50" x 25"
+ 4th Axis






Turning Capacities (10-30 H.P.)
Bar Feed: up to
2 1/2" Round
Chucking: up to 14 1/2" diam. x 34" long





| | | | |
| --- | --- | --- | --- |
| Screw Machines | 1/8" Diam. – 1 5/8" Diam. Capacity | | |
Miscellaneous Equipment
Induction Heat-Treating Machine:
| | | | |
| --- | --- | --- | --- |
| 20 KW power | Localized-treating | Up to 1 1/4" (Dia.) x 1" | |
2nd Op. machines
Band Saw
Bridgeport milling machines
Buffers
Grinders
Sanders